Services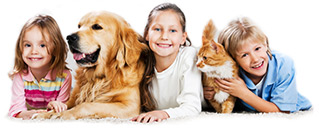 Looking for veterinary services in Campbelltown, NSW?
PREVENTION IS BETTER THAN CURE!
At Dr Spots we believe that prevention is better than cure. An annual physical exam is one of the most important services we can provide for your furry friend.
ADDITIONAL PET CARE SERVICES
Grooming and Nail Clipping
MEDICAL & SURGICAL SERVICES
Surgery
Our surgical suite is fully equipped with a large array of surgical equipment and instruments allowing our vets to perform a range of surgical procedures from routine desexing to more complicated soft tissue and orthopaedic surgeries.
If your pet is undergoing surgery at Dr Spots please read our information on pre-anaesthetic blood tests and pre-operative instructions.
In House Laboratory & Pathology
Our in-house laboratory gives our vets and nurses access to a large number of laboratory aids. Our vets can perform skin scrapings, stained smear microscopic exams, faecal analysis and urinalysis to name a few. Our lab also allows our vets to run routine blood tests on your pet and receive the results quickly. This means your pets health status can be quickly and easily evaluated, and appropriate treatments implemented in a timely manner. If your pet requires more specialised blood tests we utilise the services of a referral pathology laboratory who offer a courier service twice daily.
Digital Radiology
Our state of the art digital radiology system allows us to examine your pets x-rays in high resolution & detail. In the event that your pet requires a referral for specialist care, these digital images can easily be e-mailed to your pet's specialist for immediate viewing, thus avoiding any delay in the care and treatment your pet may require.
Ultrasound
Our imaging suite also offers an onsite, state of the art ultrasound machine to help facilitate any imaging your pet may require. Basic ultrasound evaluations can be performed, and if required, a referral to a specialist ultrasonographer can be organised if further evaluation is deemed warranted. In this event any images we have obtained can easily be e-mailed to the referral specialist to assist in the continued care of your pet.
Pharmacy
Our pharmacy is stocked with all the medications your pet may need on a day to day basis, as well as a wide variety of emergency & critical care drugs.
We are also able to provide our patients with a wide variety of prescription foods which can help manage conditions such as obesity, kidney disease, bladder stones, diabetes, & gastrointestinal disorders.