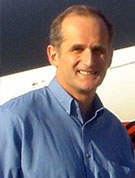 Dr Geoff Falkenmire BVSc, B Rur Sc
Geoff is the original "Dr Spot" and had a vision that Dr Spots would be an Animal Hospital that pets & their carers loved to come to. He achieves this by striving to give the best of care in a fun, friendly atmosphere. As "The Boss" he has fostered the ongoing training & development of the Vet & Nurse team (even the smallest room in the Hospital is a site of education & inspiration!).
However, Geoff would be the first to admit he has benefited the most from all the fresh ideas the others have brought with them, keeping him abreast with the latest developments in Veterinary Medicine. He has, however, been steadfast in his emphasis on compassionate care of his patients and attention to detail. He has many interests including aviation (anything about this subject will surely get him excited!) and the colder parts of the world such as the Antarctic and Arctic.
While Dr Geoff will always be the original "Dr Spot", he is enjoying his semi-retirement, which is giving him more time to pursue his love of aviation.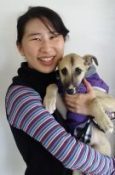 Dr Jessica Chan BVSc (Hons)
Jessica came to us with lots of fresh ideas after graduating at Sydney University in November 2010 with 1st class honours, making her a vital part of the team.
She has completed distance education courses in canine and feline internal medicine and pocket pet medicine, and thoroughly enjoys all the pleasures of her working life as a veterinarian. She has a passion for medical and surgical care of the really little guys, such as rabbits, guinea pigs and ferrets.
She also enjoys singing and dancing (but doesn't think she's any good at either) as well as hiking. Her other passion is baking, which is something the rest of the Dr Spot team reaps the benefits of.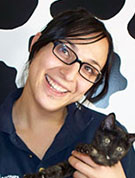 Dr Victoria Garibotto BVSc (Hons) MSc
Victoria started with us as a nurse while studying Vet Science at Sydney University. Now with a Bachelor of Science, majoring in Chemistry, a Master of Science (Biotechnology), and Bachelor of Veterinary Science (with 1st class honours), she is an extremely valuable member of our team.
She enjoys general surgery, skin disorders and has a weak spot for all of our Labrador patients. Her own 3 Labradors, Chaniqua, Max and Malibu keep her busy in her spare time, as do her handsome little ferret boys Otto and Steve. She also enjoys hiking, renovating her house and cooking – our cravings for baked goods are always cured with Victoria around!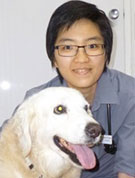 Dr Eunice Suen BVSc
Eunice joined us in 2016 as a locum, but was such a great fit for the team she definitely had to stay! Eunice brought with her a wealth of experience & a happy smile.
Being a vet, Eunice lives her dream of caring for all kinds of animals and keeping them healthy, and she believes that "Prevention is better than cure".
In her leisure time, Eunice loves exploring nice cafes and delicious food, playing board games with friends and cuddling with her fluffy housemates.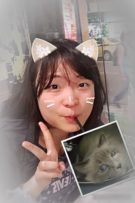 Dr Wen Shih BVSc
Wen, the happy vet, joined our team in mid 2018 while one of our other vets was on maternity leave.
There is always laughter when she works and the animals like her, too. When she is home, Coco, her overactive Staffy x Jack Russell Terrier, will not leave her side, nor do her two Ragdoll cats, Millie B and Casper.

Dr Carmen Ali BVSc MRCVS
Dr Carmen just joined Dr Spot's veterinary team with a special interest in internal medicine. She earned her Bachelor of Veterinary Science degree from the University of Sydney in 1996 and is a Member of the Royal College of Veterinary Surgeons (MRCVS) in the UK. She has also completed several continuing education courses, including oncology and a postgraduate certificate of veterinary studies in small animal practice.
She has a keen interest in veterinary-client relations and is passionate about educating clients on their pets' health issues with a compassionate, caring and individualised approach.
Dr Carmen has been a Macarthur resident since graduating and she has a deep understanding of cultural diversity having dealt with people from all walks of life.
She worked overseas for a few years during which time she had many memorable experiences in the field, including working with cheetahs, African greys, palm-sized turtles, Marmoset monkeys.
At home, Dr Carmen is a busy mother of two teenager boys and has a 12 year old DSH cat, Blue and a new addition, a one year old German Shepherd named Roxy.
She enjoys reading, having a deep fascination for Agatha Christie mystery novels, walking, visiting museums and art exhibitions, and playing the piano in her spare time (if any!).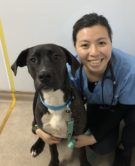 Dr Josanna Wong BSc (AVB)(Hons) DVM
Josanna (Josy) is the new addition to the Spotty Vet team since Oct 2020.
During her studies, Josy travelled internationally and worked with all kinds of animals from seals/sealions to horses to chicken.
She has a special interest in diagnostic imaging, rehabilitation medicine and Avian & Exotic Medicine.
Outside of work, Josy enjoys spoiling her cat Romeo, horse riding, bush walking and travelling.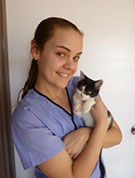 Nurse Amanda K
Amanda joined our team in 2008 and completed her Certificate IV Veterinary Nursing in 2010 with distinctions. She is our very valued Senior Vet Nurse and the hospital would certainly not run as efficiently or happily without her quiet, competent skills and organisation. Amanda enjoys all aspects of veterinary nursing but particularly loves assisting as theatre nurse in interesting surgical cases, and jumps at every opportunity to assist in whelpings and caesarian sections. Amanda's house is home to an extra-large family of cats, dogs, cockatiels and a bunny called Flower. Her own fluffy treasures include Jag, a handsome Staffy, Fromage, a sweet Labrador X, and her two Chihuahuas, Sierra and Tequila.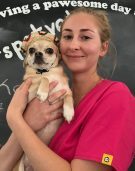 Nurse Jess H
Jess joined us in 2018 while completing her Certificate IV in Veterinary Nursing. She has always loved animals of all shapes and sizes, and has previous experience in the equine industry. Jess's eagerness to learn new things and her bubbly personality make her a very valuable addition to our team.
Jess enjoys spending time with her many, many pets and competing in Eventing with her superstar horse Dizzie. She has another horse (Yoghurt), three alpacas (Nelson, Patch and Kerri), two dogs (Reginald and Magdalene), a cat (Nancy), and three chickens (Judy, Kylie and Choy).
Nurse Kim M
Kim, originally a full time nurse at Dr Spots, has returned as a part time member of the team after 2 maternity breaks.
Kim has completed her certificate IV in nursing, & thoroughly enjoys being able to combine her passion of vet nursing with her busy family life.
She has a Mini Lop rabbit called Chocolate, a crazy Pug X called Marley, and a sweet German Shepherd called Bella.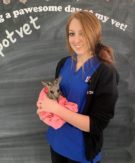 Nurse Ashleigh B
Originally from the far south coast, Ashleigh moved to Sydney after completing her HSC to pursue her dream in caring for animals.
She joined our team in mid 2019 after recently completing her certificate IV in Veterinary Nursing at Bankstown TAFE.
She enjoys her time bush-walking with her beautiful (and very Fluffy) Pomeranian called Luna.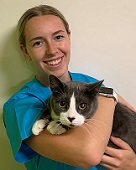 Nurse Taylor D
Taylor joined the Dr Spot family late 2019, after completed her Cert IV in Veterinary Nursing. She is enthusiastic in animal care and is a proud mum of 5 fluffy kids including the 3-legged DSH Rusty, naughty tortie Charlie, ancient Kelpie/Border Collie Bj, and Ted and Alice the Bull Arab/Mastiff cross couple.
Taylor is full of energy and very athletic. Other than spending time with her fur babies, she enjoys her sports activities such as Footy and Oztag.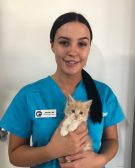 Nurse Jamie L
Jamie joined the Dr Spots family late 2019 while completing her Certificate IV in Veterinary Nursing. She has always had a strong passion to become a vet nurse even from a young age, she is enthusiastic and loves what she does!
She has four fur babies of her own, two dogs and two cats, Snicks, Charlie, Kitty and Teddy. When she's not with her fur babies, she enjoys spending time with her family and playing sport.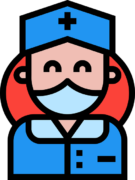 Nurse Angelina D
More info to come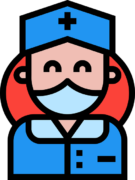 Nurse Ashlee H
More info to come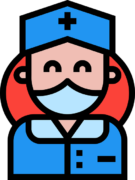 Nurse Venjie L
More info to come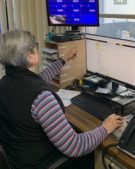 Practice Manager Mandy F BRur Sc (Hons), MCom
Mandy joined the small team at Campbelltown North in 1994, leaving a corporate career in animal health pharmaceuticals for the daily excitement & satisfaction of helping to provide veterinary care.
We have Mandy to blame for the spotty decore of the hospital, inside & out, and its vehicle with ears! However, we are thankful for our familiar name "Dr Spot" which is sooo much easier to say when answering the phone than "Campbelltown North Animal Hospital"!
Mandy attends to all the back-room office administration tasks that keep the hospital running smoothly and the staff paid, fed & happy. She is also "Handy-Mandy" and will often be seen mowing lawns, drilling in a loose screw or doing some touch-up painting as she, like the rest of the Dr Spot team, is multi-skilled! She is also the reason Cockatoos frequent our backyard. 🙂
Currently, Mandy shares her home with just one cat "Spot" (who happens to be the brother of Marvin, the hospital's 2IC), and "Lilly" the rescue Kelpie. Untreated, Lilly is prone to serious epileptic seizures, but thanks to the great vets at Dr Spot's, and the expert support from the specialist vets at SASH & ARH, she leads an active & full life.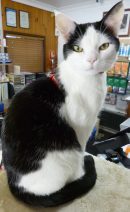 Marvin
Our charismatic but often very lazy Marvin (aka Marvy, Marvin The Marshmallow, Maverick and Smooshface) found his way to our doorstep in 2012. After a brief stint in our Kitten Adoption Centre, he found his furever home at our very own hospital. He very quickly rose through the ranks to become Dr Geoff's second in charge, and can often be found up on his pedestal at the front counter.
While our little (well, not so little) man is often found sleeping, he also enjoys investigating our patients when they come through the clinic doors, chasing moths at the windows on summer evenings, and breaking into bags of food on our shelves (much to our displeasure). Apart from his role as 2IC of the clinic, he is also the very gentle and comforting "Uncle Marv" to all of the kittens that come through our adoption centre.